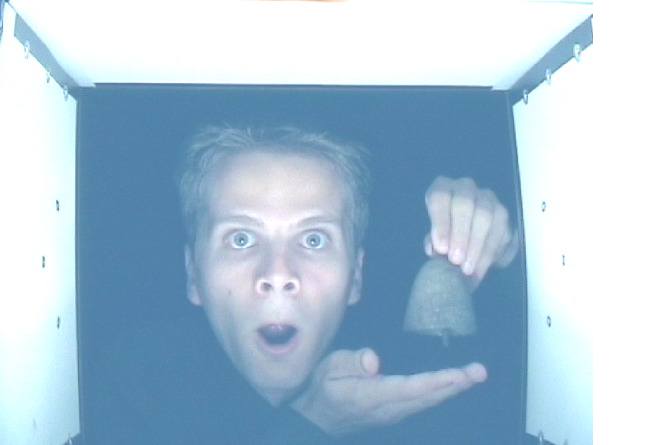 David Bithell (trumpet, electronics)
is devoted to the exploration of the intersection between experimental music and theater.  His use of live performance, video, staging, music technology, and improvisation create abstract narratives that balance between the tragic and comic.  He has performed his compositions throughout the United States, Europe, and Asia in a variety of settings. As a trumpet player specializing in contemporary and improvised musics he has devoted himself to the exploration of new possibilities for that instrument.  He is the trumpet player and co-organizer for the sfSoundGroup (a West Coast experimental music collective) and has played with the San Francisco Contemporary Music Players, the Berkeley Contemporary Chamber Players, and the La Jolla Symphony.
Eric km Clark (violin)
Accomplished violinist, composer, and improviser Eric KM Clark presents many different styles of new music throughout the world, with the majority of his shows taking place in Los Angeles, Toronto, and New York City. He has worked with many of the world's most innovative artists and ensembles, including the late James Tenney, Jurg Frey, Michael Gordon, Richard Foreman, Guy Maddin, Wadada Leo Smith, Christian Kesten, Michael Pisaro, and Butch Morris. Mr. Clark is a member of the genre setting new music ensemble The California E.A.R. Unit (LA), the Dog Star Orchestra (LA), neithernor (TOR), and the Kadima String Quartet (LA). His playing has been released on Innova, New World, Tonehole Music, Sundialtech and Tzadik (Spring 2012). His compositions have been released on Henceforth Records and CQB.
Ulrich Maiss (cello, electronics)
lives in Reiffenhausen, Germany.
Musicians and artists he works with include Lou Reed, Zülfü Livaneli, Al Di Meola, Robert Wilson, Joseph "Butch" Rovan, Lynn Miles and Theodor Franck. He appears on albums by Metallica, Element Of Crime, Alexander Veljanov, Vinx and ChillFactor 5 to name but a few.  Well known as a performer of contemporary European chamber music, he has also performed with various rock and folk acts throughout Northern Europe, Greece and Turkey. His solo projects in the field of experimental music led him to Japan, the U.S. and Canada.
Andy McWain (piano, keyboards)
is Assistant Chair of the Music Department, and a full-time lecturer in jazz studies, jazz piano, and theory. As an improvising pianist/keyboardist he has performed and/or recorded with such artists as Joe Giardullo, Karl Berger, Assif Tsahar, Tiger Okoshi, Santi Debriano, Brian Melvin, Daniel Levin, Tatsuya Nakatani, John Dirac, Jorrit Dijkstra, Albey Balgochian, Laurence Cook, Dino Govoni, Luther Gray, Jim Robitaille, Brooke Sofferman, Bruno Raberg, Reuben Radding, Dennis Warren's Full Metal Revolutionary Jazz Ensemble, the Artie Shaw Orchestra (led by Dick Johnson), and the Zen Bastards, among others.
Kevin Patton (guitar, electronics)
Kevin Patton is a musician, scholar, and technologist active in the fields of experimental music and multimedia theatre whose work explores the intersection of technology and performance. The design of new musical instruments as well as interfaces and computer systems for analysis, improvisation, and projection is at the center of his practice. Patton is also a frequent collaborator in installation, network art, and performance art projects. His work has been recognized for his collaboration with visual artist Maria del Carmen Montoya with the prestigious 2009 Rhizome commission for the piece, I Sky You, an installation that combines chemically synthesized light, video tracking, and sound design.
Joseph "Butch" Rovan (clarinet, electronics)
is a composer/media artist and performer on the faculty of the Department of Music at Brown University, where he co-directs MEME (Multimedia & Electronic Music Experiments @ Brown) and the Ph.D. program in Computer Music and Multimedia. Prior to joining Brown he directed CEMI, the Center for Experimental Music and Intermedia, at the University of North Texas, and was a compositeur en recherche with the Real-Time Systems Team at the Institut de Recherche et Coordination Acoustique/Musique (IRCAM) in Paris. Rovan worked at Opcode Systems before leaving for Paris, serving as Product Manager for MAX, OMS and MIDI hardware.